Press Releases
19 October 2023
BBGI joins hands with Fermbox Bio, global partner to establish the first commercial CDMO plant in Thailand and SEA with an initial investment of approximately 500 million baht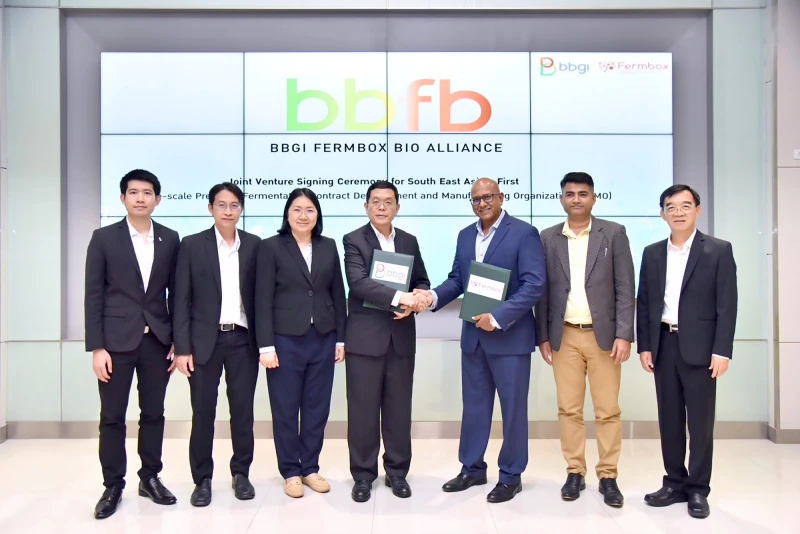 Strategic Joint Venture Announcement:
BBGI and Fermbox Bio collaborate to bring large-scale Synbio manufacturing capability to Thailand through the first-of-its-kind precision fermentation contract development and manufacturing facility.
October, 19 2023
Today, we are pleased to announce a collaboration between BBGI and Fermbox Bio, focusing on establishing biotechnology facilities in Thailand to manufacture Synbio products.
BBGI and Fermbox Bio have formalized a joint venture agreement, marking the initial phase of our collaborative enterprise. These biotechnology facilities will initially produce enzymes and expand into producing cutting-edge synbio products with an expected total fermentation capacity of up to 1 Million liters, equipped with the state of art up-stream and down-stream equipment. BBGI will contribute its large-scale project execution, operational experience and funding, and Fermbox Bio will contribute its expertise in synthetic biology and manufacturing processes. Fermbox Bio will also produce some of its proprietary products in the joint venture facility.
"BBGI has entered a joint venture agreement with Fermbox Bio, a global partner and a leader in research and production of synbio products with advanced microbial precision fermentation process. The signing was aimed to mutually establish a joint venture, BBFB (BBGI Fermbox Bio), the first large-scale advanced biotechnology plant (CDMO) in South East Asia and in Thailand to produce bioproducts with precision fermentation process to support Bio-Circular-Green Economy Model. BCG model expected to enhance sustainability in biological resources and build inclusiveness to Thailand's economy, social and environment." said Mr. Kittiphong Limsuwannarot, BBGI's Chief executive Officer.
"We are excited to partner with BBGI to develop state-of-the-art biotechnology plants. Our mutual dedication lies in shaping a collaborative future in which sustainable Synbio solutions play a pivotal role, meeting the evolving needs of future generations while safeguarding our planet. BBGI's commitment to a sustainable future aligns with our core business model, which focuses on collaborating with companies worldwide for product development, manufacturing, and commercialization. We firmly believe that the Synbio industry's future hinges on global collaborations to achieve the necessary scale as we work towards replacing traditional supply chains rooted in forest products, animals, or environmentally taxing petrochemical processes." commented Mr. Subramani (suBBu) Ramachandrappa, Founder of Fermbox Bio.
The investment of BBGI and Fermbox Bio in an advanced biotechnology plant will be planned into 3 phases with an expected total fermentation capacity of up to 1 Million liters and an investment value of more than 3 billion baht. Phase 1 will start with the installed capacity of around 200,000 litres with an initial investment value approximately 500 million baht. BBFB has planned to establish a Bio hub in the Eastern Economic Corridor (EEC). The plan aims to enhance the country's quality in every aspect, focusing on the New S-Curve targeting the agriculture and biotechnology industry, which is expected to be supported by establishing a CDMO plant from the government.
Fermbox Bio and BBGI are dedicated to shaping a more sustainable future through innovation, collaboration, and responsible business practices. This partnership signifies a substantial step forward in addressing global challenges.